Please submit your photos for the next Saskatchewan Geology Calendar
The Saskatchewan Geological Society is gearing up for the fourth edition of the Saskatchewan Geology Calendar for the 2019 calendar year. To that end, we are looking for submissions of photographs featuring the geoscience diversity of our province covering all corners of our province from the Cypress Hills to the Lake Athabasca region and exhibiting all scales from microphotographs to satellite images. We are seeking submissions in the following categories: 1) mineral; 2) outcrop north; 3) outcrop south; 4) fossil; 5) aerial image (Landsat, ortho, drone, etc.); 6) geological landscape north; 7) geological landscape south; 8) geological history; 9) oil & gas industry; 10) landform; 11) mineral exploration industry; 12) microscope; 13) geological art. To get an idea of photos in previous calendars, please scroll further down on this page to take a look.
We encourage submission of one or more photos, in one or several of the above categories.
Please send your photos to:
Sask.Geological.Calendar@outlook.com
by March 15, 2018.
If your photo is chosen you will receive two free calendars and bragging rights.
3rd Edition of Saskatchewan Geology Calendar - 2018
A committee of dedicated SGS members has put together the third edition of a Geology Calendar that showcases the geoscience beauty of our province. The calendar cost a lot of money and effort to make and we ask that each member buy at least one copy to support your Society and to ensure the making of a fourth edition. The calendars also make great stocking stuffers and when you buy multiples you can purchase it for a discounted rate (1-4 calendars for $10 each; 5-9 calendars for $8 each; more than 10 for $6 each). Proceeds from the calendar are used to keep the Society afloat, e.g. bringing in speakers and running field trips.
But I should not have to appeal to your charitable side, as the calendar can really sell itself. According to some early reviews, the 2018 version might be the best of the three. It shows an amazing variety of images from all across the province, featuring photos from the microscopic scale to a picture from space, all of these submitted from Society members or the general public. In addition to the appeal each photograph holds, every month has scintillating descriptions that enlighten the reader with succinct information about the photograph as well as supplying 'fun facts' and 'did you knows'.
Wormy apatite, Avonlea's chimney rock, a Saskatchewan carbonatite, Castle Butte are just some of the images that await. Please help out your Society and ensure there will be a fourth edition by buying your copy of the 2018 Saskatchewan Geology Calendar.
Submitted by Ralf Maxeiner, on behalf of your calendar committee team: Kevin Ansdell, Ken Ashton, Monica Cliveti, Jason Cosford, Michael Cuggy, Janis Dale, Michelle Hanson, Ryan Morelli, Matt Thompson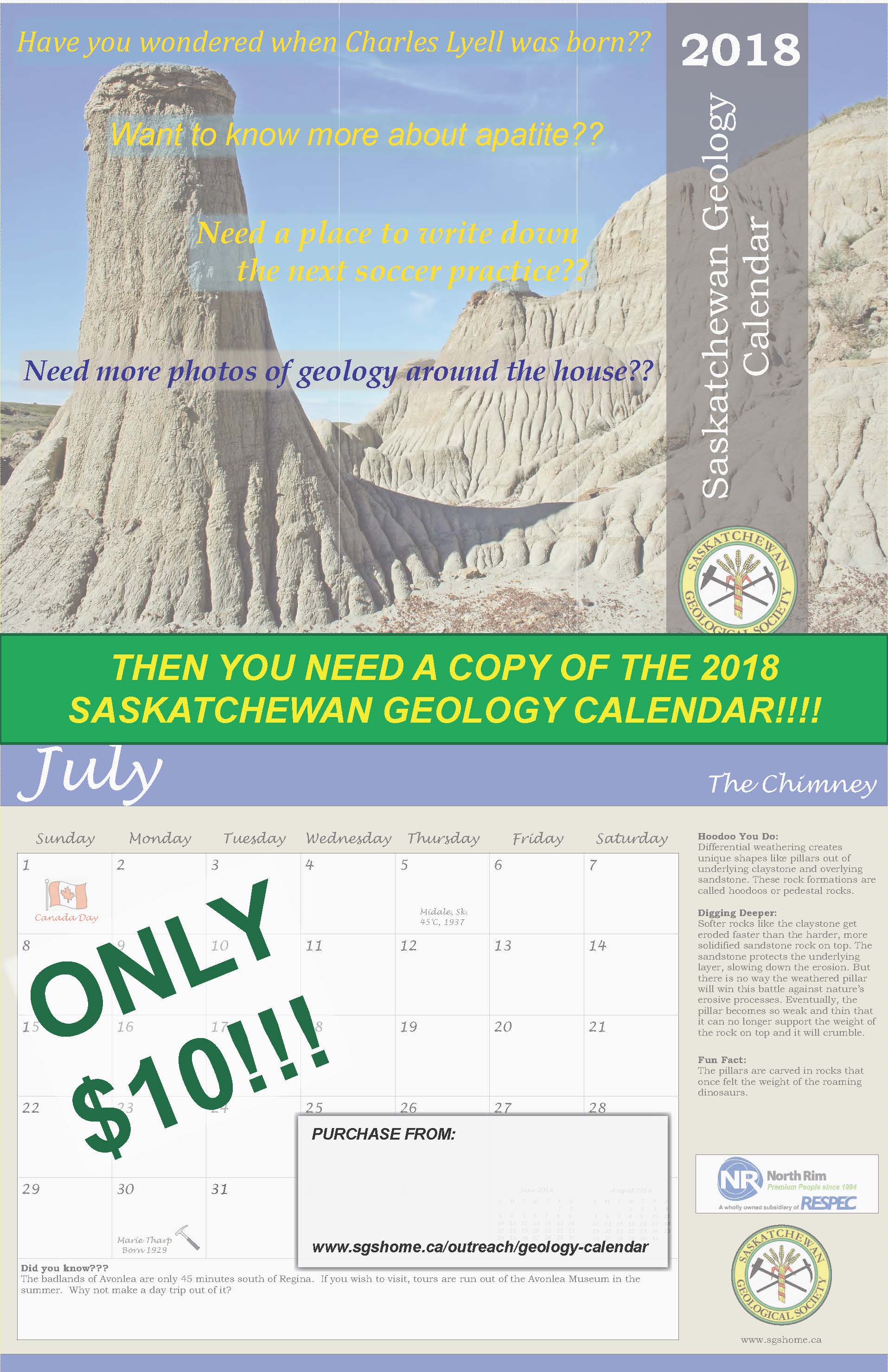 Flip to January 2018:
And this is what it looks like inside:

How to obtain a calendar?
The calendar retails for a price of $10 (1-4 copies), $8 (5-9 copies) and $6 (>10 copies). It will be available for retail from early October until the middle of January.
In Regina, the calendar is available each fall at the MacKenzie Art Gallery, the Royal Saskatchewan Museum, and at the Artful Dodger, as well as at the University of Regina bookstore.
In Saskatoon, the calendar is now available at the U of S bookstore, the U of S Geology Department, and at McNally Robinson bookstore.
You can also place larger orders of the calendar online by completing an order form (click here to download).
A few copies of the second edition of the Saskatchewan Geology calendar are still available.
Congratulations to the winner of our 2017 photo contest: Sally Gray's photo from Chaplin was selected for the month of December.
2016 Geological Calendar of Saskatchewan
The idea for the Calendar was born in 2015 and a committee of SGS members (see below) worked hard to create and design Saskatchewan's first Geological Wall Calendar for 2016. The purpose of the calendar, apart from the obvious, is to educate the general public about Saskatchewan geology and its impact on our lives and prosperity. Monthly photos feature various scenes from the 3.4 billion years of Earth history thus far recorded in the province from microscopic scale to landscape views spanning the Precambrian Shield in the north to the southern prairies.
In 2016 the Society printed 1000 calendars, most of which were sold, with some having been handed out free to schools across the Regina area.
The 2016 Wall calendar is still available for half price ($5) by emailing: sask.geol.soc@hotmail.com (click email address). If you want to receive it in the mail, shipping and handling will be extra. Shipping within Canada is $5, to the US $10. Prepayment is required for all orders.
Committee Members:
Kevin Ansdell, Ken Ashton, Monica Cliveti (secretary), Jason Cosford (design), Michael Cuggy, Michelle Hanson (treasurer), Ralf Maxeiner (chair); Ryan Morelli, Matthew Thompson, and Heather Brown (final editor)
If you would like to submit your photos for an upcoming edition of the Saskatchewan Geology Calendar please email: