Robert Milner Award - Top undergraduate geology student at University of Regina Robert Milner was a prominent Saskatchewan geologist who made significant contributions to the understanding of the sedimentology and stratigraphy of the Jurassic System in Saskatchewan, particularly units such as the Watrous, Gravelbourg, Shaunavon, Vangaurd formations. Presented award plaque, $150.00 cash prize, choice of any SGS publication (provide publication list).
The 2015 winner of the Robert Milner award:
The 2014 winner of the Robert Milner award:
Dr. Chi was honored to present the award to Amanda Palaniuk, the top graduating undergraduate geology student at the University of Regina with an outstanding GPA of 89.2%.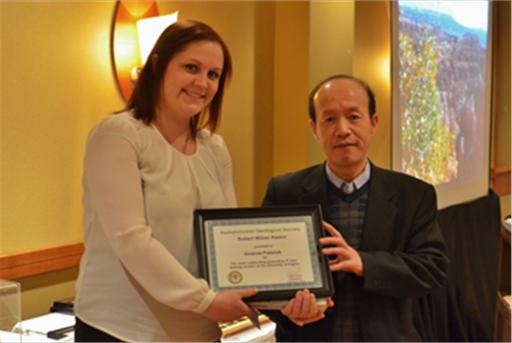 Past winners of this award are listed below:
| | |
| --- | --- |
| Year | Award Recipient |
| 1971 | Daryl Wightman |
| 1972 | Marion Cole |
| 1973 | John Letson |
| 1974 | Gary Posehn |
| 1975 | Grant Garvin |
| 1976 | David Thomas |
| 1977 | Frances Haidl |
| 1978 | Allan Tritthardt |
| 1979 | Dave Davison |
| 1980 | Dan Walker |
| 1981 | Brenda Drever |
| 1982 | Pam Schwann |
| 1983 | Sherry Richardson |
| 1984 | Greg Perras |
| 1985 | Deirdre Riley |
| 1986 | Jill Rehman |
| 1987 | David Toop |
| 1988 | Dwayne Sparks |
| 1989 | Mark Edwards |
| 1990 | Lloyd Freeman |
| 1991 | Dawn Kosloski |
| 1992 | Danny Labelle |
| 1993 | Jeff Webber |
| 1994 | Andrea Kletzel |
| 1995 | Paula Zimmer |
| 1996 | Colin Card |
| 1997 | Kevin Treptau |
| 1998 | Christopher Coolican |
| 1999 | Andrew Nimegeers |
| 2000 | Mauri Smith |
| 2001 | Gregory Niebergall |
| 2002 | Kim Bailey |
| 2003 | Nadene England |
| 2004 | Sarah Ranson |
| 2005 | Jeanette Marcotte |
| 2006 | Earline Mack |
| 2007 | Jennifer Emily Braun |
| 2008 | Andrew Morley |
| 2009 | Bree Rees |
| 2010 | Tara Fuchs |
| 2011 | Ian Mansfield |
| 2012 | Richard Boulding |
| 2013 | Taylor Haid |
| 2014 | Amanda Palaniuk |
| 2015 | Brodie Stroh |
| 2016 | Kevin Hoover |
| 2017 | Joshua Kluck |